Continue innovation,
New value
Continue to create
scroll
Company Profile

To make Further leap
We aimed for a leap towards the 50th anniversary of 2020"
NASHITOGERU 2020"。
We are thinking of wanting to achieve a big goal.
Always be aware of the fact that it is a "Kanda man" that can contribute to customers, we will work on our business.
Domestic and overseas manufacturing plants.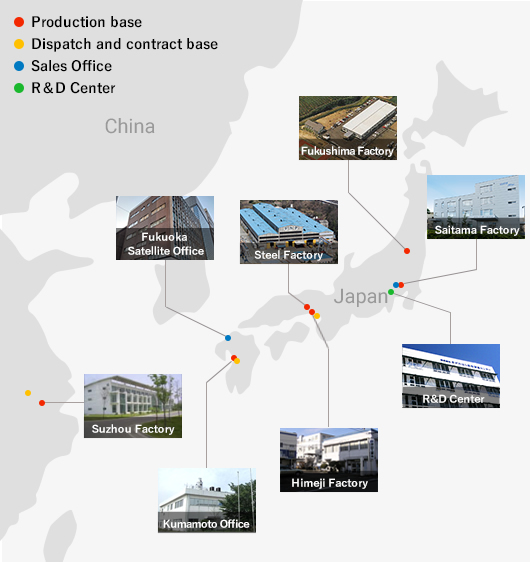 Himeji factory

6 Kanda-cho 3-chome, Himeji-shi,
Hyogo 670-0991 Japan
TEL:079-298-1594
FAX:079-298-1601

Kumamoto Office

1302 Arisa, Kagami-machi, Yatsushiro-shi,
Kumamoto 869-4213 Japan
TEL:0965-52-1071
FAX:0965-52-1075

Steel factory

TakadaKogyokyodokumiai-nai,
888 Yakata, Ichikawa-chou, Kanzaki-gun,
Hyogo 679-2337 Japan
TEL:0790-28-1620
FAX:0790-28-1620

Fukushima Factory

360-5 omiya, Kagamiishi-machi, Iwase-gun,
Fukushima 969-0402 Japan
TEL:0248-62-6135
FAX:0248-62-6138

Fukuoka Office

Fukuoka System LSI Integrated Development Center 5F,
Sawara-ku Hyakudohama 3-chome 8-33,
Room 501 Fukuoka City, Fukuoka, 814-0001 Japan

Suzhou factory

C D, 12 su chun industrial square
428 xinglong street, suzhou industrial park, suzhou city, China
TEL:0512-6660-7321
FAX:0512-6660-7322

Group company

・Kanda Industry (Suzhou) Co., Ltd.
・Kanda (Suzhou) Enterprise
 Management Consulting Co., Ltd.
・Kanda (Suzhou) Enterprise
 Management Consulting Co., Ltd.
 Wuxi Branch
・Kanda Business Solutions Co., Ltd.
・MIRAIBAR Corporation